As an analyst, you strive for accurate and reproducible results when running methods and analysis, wanting to see good peak shape, resolution and separation.
However, we know over time, chromatography equipment and instrumentation will wear, and parts will eventually break. To take steps to prevent this, you need to ensure that scheduled regular cleaning and servicing of your high-performance liquid chromatography (HPLC) equipment is in place.
Below, we've shared some quick tips and good lab practices for cleaning your HPLC and columns, that you can begin incorporating into your lab's cleaning or maintenance rota.
These tips are just guidelines, and if there is something specific that your system needs, please get in touch to speak with our friendly team.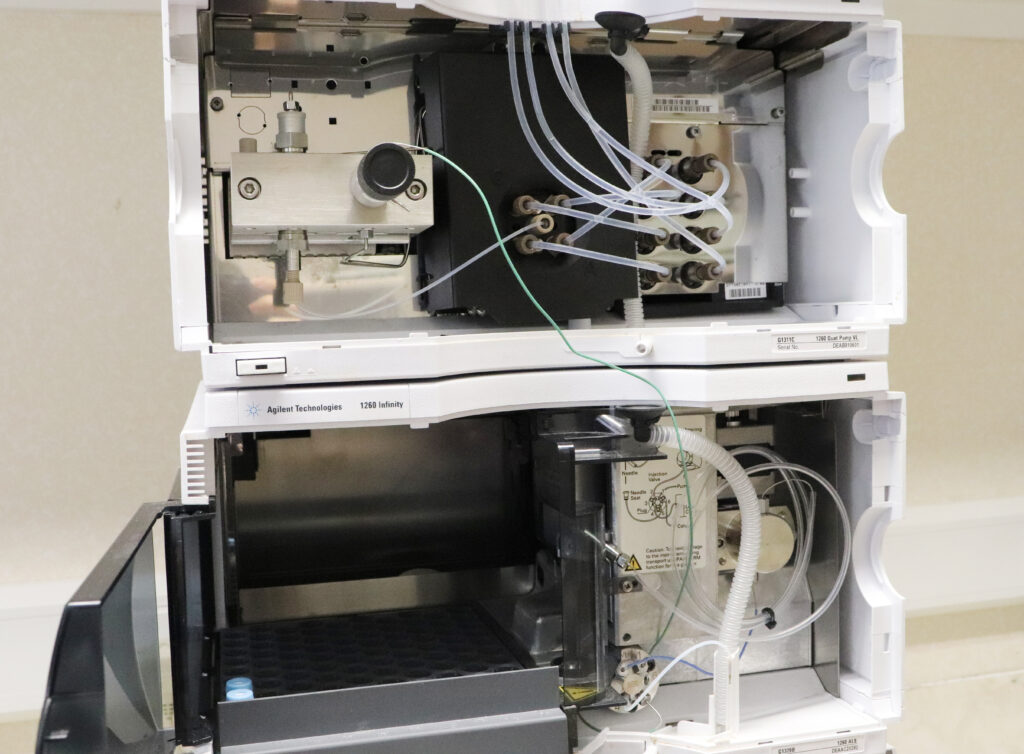 Best practises on cleaning your HPLC system
Choose high-quality solvents
To ensure accurate results and prevent potential complications, you should use only the highest-quality solvents when conducting chromatography. HPLC-grade solvents are the best option, as they are free of impurities and contaminants that could cause false peaks or blockages in the equipment.
If you use water-based solvents or mobile phases, these should be changed daily to minimise potential algal growth and precipitation of salts, which can block the degasser or solvent filters.
When using solvents, you should always:
Use clean, borosilicate, coloured (brown or amber) glass bottles
Pre-rinse your glassware with your desired solvent for analysis, as detergents from glass washers can contaminate the bottles
Clearly label any solvent with the contents and expiry date to keep on top of routine housekeeping
Use a pump seal wash and flushing system
If installed on your system, a HPLC pump "seal wash" function is strongly recommended when using water or water-based solvents, like salt buffers.
This function helps to increase the performance and lifetime of the piston seal, while also being beneficial for removing unwanted deposits which can be left behind on the pistons and the seals.
Combining this with daily flushing of the HPLC system prevents build-up and reduces the maintenance needed. We recommend that any seal wash solution (50:50 methanol/water or 10:90 isopropanol/water) is changed regularly, i.e., weekly, to reduce contamination.
To further clean the system, and in a worst-case scenario, 6N nitric acid can be used to flush through the system.
Ensure your degassers, pumps and detectors are clean
As they're critical components, it's essential to regularly clean and maintain your degassers, pumps, and detector. Below, we've included some tips on cleaning these components.
Degassers
Use a mild detergent and water to clean the internal surfaces
Be sure to rinse thoroughly and allow to air dry before reassembling
Pumps
Should be flushed with a compatible solvent after each use to prevent build-up
Replace worn tubing and seals as needed
Detector
Should be inspected regularly for damage or contamination
If necessary, clean with a lint-free cloth and the appropriate solvent
When using solvents with degassers, pumps and detectors, always check the compatibility of buffers and organic solvents and avoid allowing the system to dry out.
What to do if your system dries out
If solvents are incompatible, precipitation can form, causing blockages and issues in the degasser chamber or the pump's MCGV (multi-channel gradient valve), both of which can affect the flow path and influence results. To counteract this, you should:
Flush all four channels of the MCGV with warm water to remove any potential salt deposits.
For the degasser, flush through all lines with isopropanol, ensuring all lines are in liquid – avoiding any part of the degasser being damaged from drying out.
Water and isopropanol can be used to flush through the detector's flow cell (water to remove any potential deposited salts and isopropanol to remove any residual organic solvent).
The flow cell can also be stored in isopropanol to prevent algal growth if the detector or flow cell is not used regularly.
Use a wash solution
In general, selecting a wash solution is based on what you use in your system.
The wash solution must be fully soluble with all the samples being injected and any buffer solutions you use. It's wise to always keep an organic content in your wash solution to inhibit algae growth and other undesirable bugs.
Due to these criteria, it is possible to use one or more wash solutions depending on your needs.
For example, in many situations, a basic wash solution of 50:50 Water/Methanol can be used, but again this will be down to your own requirements, so always check first.
Be sure your column is cleaned and stored correctly
For optimal HPLC column care, you should always read the storage and cleaning information on the guidance manual usually shipped with the column.
However, if this isn't available for a deep clean, it is possible to reverse flush the column into a beaker and flush it out at a lower flow rate for around 20-30 column volumes.
It is good practice in a lab environment where multiple analyses and methods are run on the same system to have a column logbook detailing:
Each column
Mobile phase to be used
Cleaning mixture to be run through after analysis
How to store long-term
Always ensure you use suitable fittings with your columns – different types of HPLC columns may require different fitting dimensions. Using one that doesn't fit can lead to dead volume, which may cause pressure spikes, retention time issues and peak dispersions.
Using a guard column is also recommended to protect your column (depending on the nature of your samples) and increase the column lifetime overall.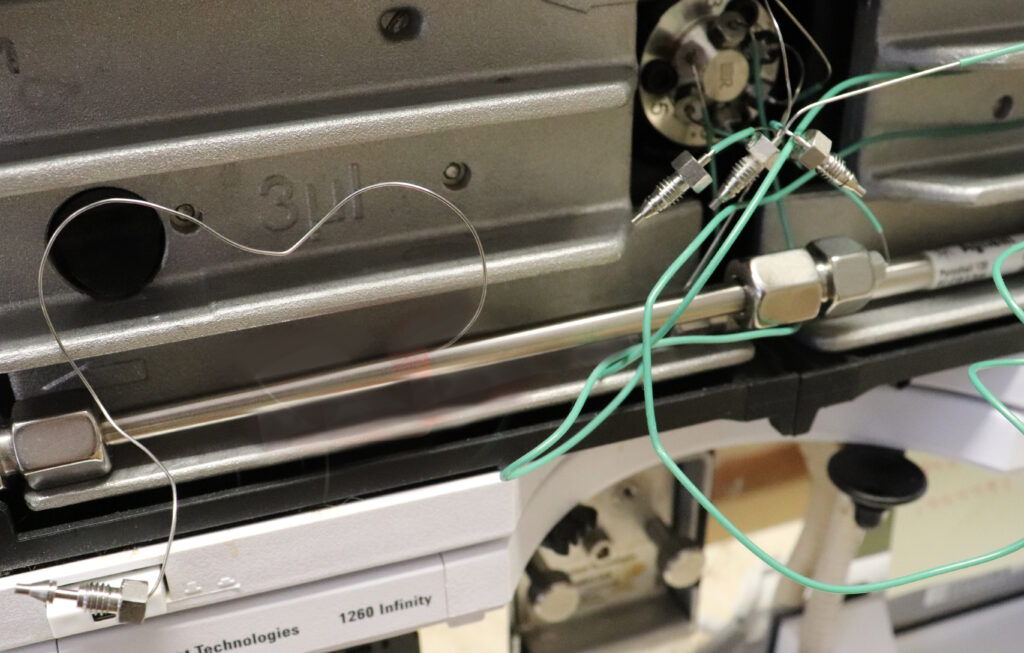 The importance of regular cleaning and servicing
We know ensuring the purity of your samples is crucial in chromatography.
To maintain this accuracy and precision, regularly cleaning your HPLC system will prevent contamination and lead to more reliable data, while keeping your equipment trouble-free for the maximum time.
Combining this with chromatography servicing will extend the life of your equipment and instruments, saving your laboratory time and money. Scheduled servicing and preventative maintenance (PM) help to spot problems before they become costly, decreasing the risk of lab downtime and reducing repair costs.
You can learn more about the importance of preventative maintenance in our blog, here.
Developing a cleaning procedure and rota
The frequency of cleaning depends on how often you use your equipment, but it's important to keep track on a rota to ensure it happens routinely.
As there are various ways to clean the system, depending on the analysis used, you should create a clean-down procedure for your chromatography laboratory.
We've placed an example of a basic universal clean-down procedure below.
First, using warm water (~60-70°C), flush through the system at 1-2 ml/min with a restrictor capillary or zero dead volume union.
Followed by 100% isopropanol (IPA), this can be done overnight at a lower flow rate
Recondition the system with an IPA/water or methanol/water mix (~50:50)
Install a new mobile phase on the system and flush through the 50:50 mix before reinstalling your column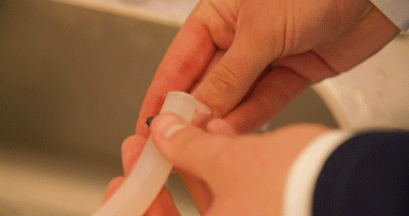 How LC Services can support you with chromatography servicing
The above are just a few helpful tips and good practices to help maintain your HPLC system, with our team on hand if there is something specific your system needs.
In order to further defend against poor chromatography, it's also recommended to have a dedicated service plan.
At LC Services, we offer several service contracts that will help improve your equipment's longevity and prevent future issues. We can even create a bespoke service, maintenance and support plan that covers all your laboratory analytical equipment, including operational qualifications and additional PM visits.
Each of our highly qualified engineers can deliver servicing for various brands and equipment, with our plans also including a 48-hour on-site response and phone support as standard.
Plus, if we spot anything which needs replacing, our reconditioned parts exchange programme can help you extend the lifetime of your equipment and has faster lead times.
Get in touch with us
LC Services are committed to customers, services and support for your chromatography analytical laboratory.
Our team and engineers support a wide array of machinery within numerous laboratories, servicing old and new equipment for various processes.
If you're interested in learning more about our service plans and the models we support, visit our website here: https://www.lcservicesltd.co.uk/service-contracts/